DroneMobile Blog
How Do Telematics Systems Work?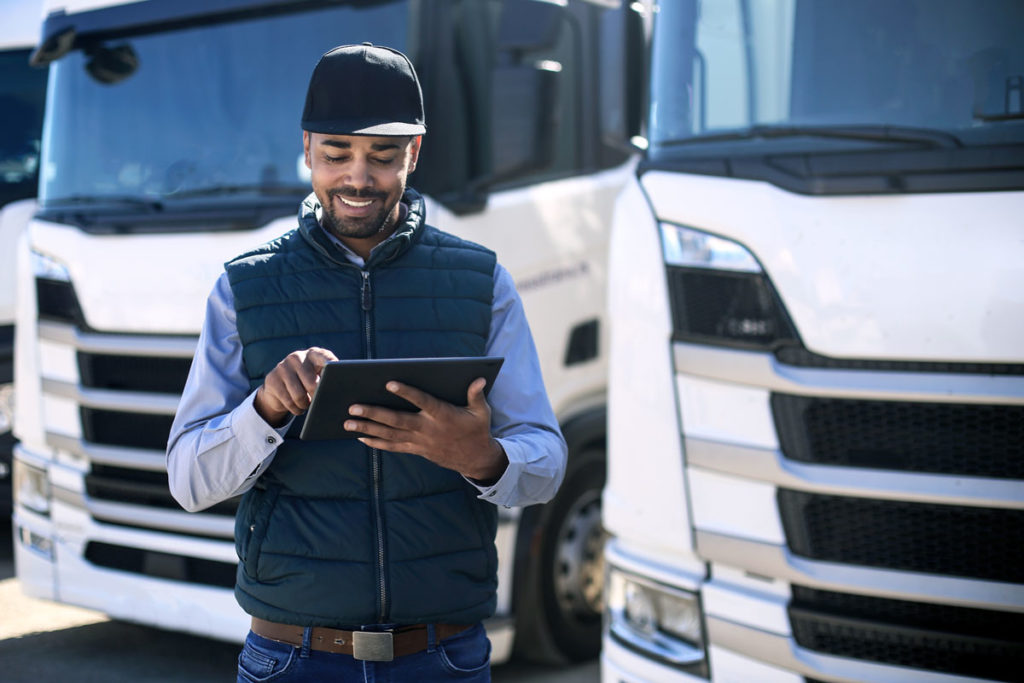 Vehicle telematics has come a long way over the last several years. These systems can transform your business by giving you detailed insights into how your fleet is performing and how you can improve from there. They also increase the effectiveness of your vehicle security. But, what are they and how do telematics systems work? 
What is Vehicle Telematics?
Vehicle or fleet telematics is technology that collects and transmits data about a fleet or a single vehicle including GPS locations, maintenance requirements, and driver behavior.
How Vehicle Telematics Work - Beginning to End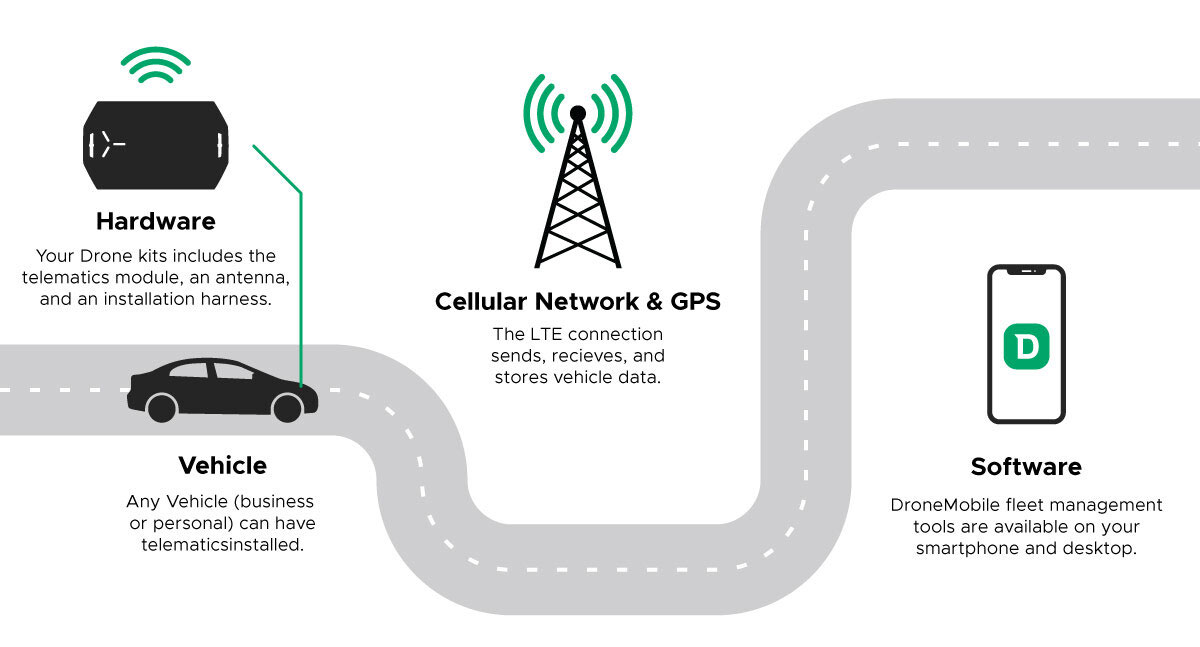 Telematics Hardware 
A typical telematics system includes an antenna, sensors, and a "black box" to gather and communicate your vehicle data. Since these systems usually run on cellular networks, your black box, or telematics module, comes with a SIM card. These systems are either hardwired or plugged into the vehicle's OBD II port. 
DroneMobile has a variety of kits for you to choose from for the needs of your fleet. All DroneMobile systems come with an LTE telematics module that provides GPS tracking and driver monitoring features.
To learn more about all the different systems we offer, check out this post: How to Choose the Right Vehicle Telematics System
The Vehicle 
Telematics can be installed onto any vehicle, but are most commonly used by modern companies to track business fleets. They can also be installed in non-motorized assets like shipping containers to make sure they aren't stolen or lost. If you're using telematics to track vehicles, you can load real-time driving and location data. 
DroneMobile is typically used for vehicle and driver tracking. This means, you're not just getting GPS location data, but you'll also receive detailed notifications such as speeding alerts and vehicle health updates. 
Cellular Network & GPS Tracking 
All vehicle telematics systems utilize wireless communication to send, receive, and store data. The type of wireless communication used largely depends on the type and size of data being handled.
Shipping container trackers, for example, may only need to use Bluetooth and GPS to monitor a shipment's progress. However, apps like DroneMobile use LTE cellular connectivity to provide drivers with fast access to their vehicles for security monitoring and real-time location tracking.
Vehicle Telematics Software 
Telematics systems are most often designed to be managed by people via software. Traditionally, telematics software was primarily PC-based, but as more business owners rely on smartphones to run their operations, mobile applications have become increasingly popular over the past 10 years.
DroneMobile provides easy-to-use telematics software for both smartphones and desktop computers, giving fleet managers multiple ways to monitor driver and vehicle activity.
The DroneMobile App and Accounts 

The free DroneMobile app gives you access to all of the data collected by the telematics system. You can also fully customize the information you see here via the apps setup page. Through the DroneMobile app, you can choose from a variety of alerts to help you stay on top of your vehicle info. 
If you ever miss any alerts, or you prefer to have one check-in per day/week/month or what have you, then you can always switch off push notifications and view all of the alerts and routes at once in the Trip Reports tab. 
DroneMobile accounts give you access to all of the same information and settings as the app but, from this interface, you can also purchase your subscriptions and download your vehicle data. 
Our comprehensive help center provides you with several ways to contact support and hundreds of help articles for quick and easy troubleshooting. You can access the help center through the app, accounts, or our website 24/7. 
DroneMobile Telematics Installation 
Your Drone Module is installed by one of our expert, authorized dealers. We have a network of 2,000+ dealers throughout the nation. Once you choose your local dealer, they will install the telematics device via your OBD II or CAN-BUS port.
This device includes an antenna and a SIM card, which is what communicates with the LTE network. 
Whether you need troubleshooting assistance or a new installation, our vast network of Authorized Dealers is here to help. Simply visit the Find a Dealer page on our website to find your dealer today!