DroneMobile Blog
How to Choose the Right Vehicle Telematics System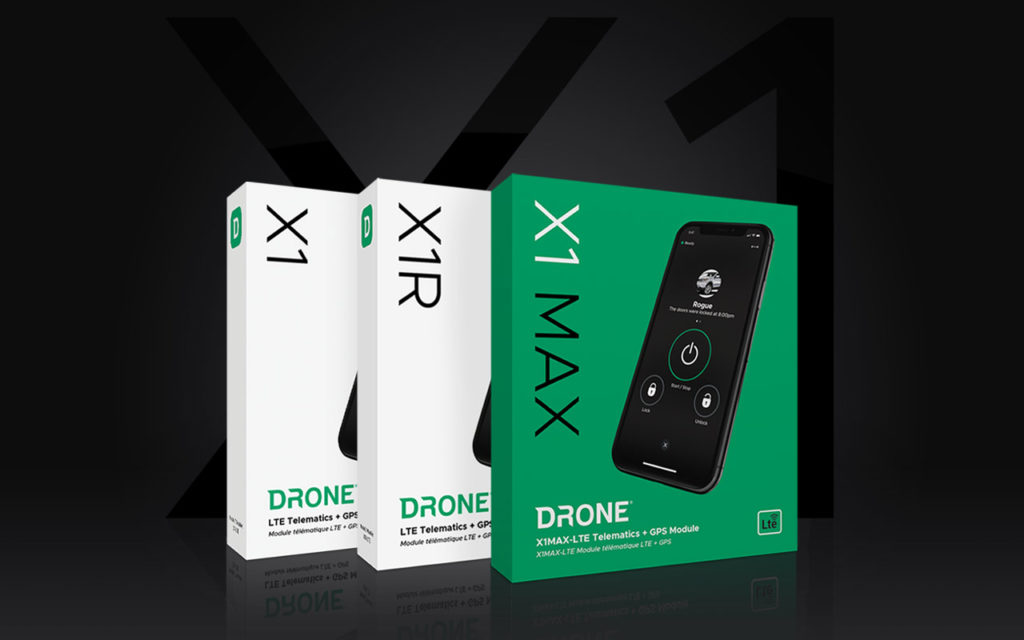 Auto manufacturers advertise LTE connectivity as a top-tier feature only available on the newest vehicles. But, did you know you can add GPS track and smartphone control with unlimited range to your current vehicle as well? DroneMobile has offered this solution for years, but 2019 marked the launch of our most powerful hardware to date: the X1 Series. 
Quick Guide to DroneMobile Telematics Systems
DroneMobile offers three different telematics modules: the Drone X1, X1MAX, and X1R. All of the modules come with a wide variety of security and convenience features depending on your subscription level.
Many of you may be familiar with the Drone X1MAX by now, but did you know there are 3 different types of hardware in the series? The X1, X1R, and the X1MAX provide smartphone vehicle control, GPS tracking, and vehicle health monitoring solutions for all drivers in the U.S.A. and Canada. To enjoy these features, however, you must be sure to purchase the correct hardware for your vehicle. 
---
X1: Find Your Perfect Kit (U.S. Only)
The base-level X1 can be found in any 2-way remote kits for Compustar, Arctic Start, and FTX systems. This piece of hardware is meant to be the ultimate back-up remote for any Firstech remote start and security system. In fact, this module is included in these kits as a replacement for the traditional 1-way back-up remote.
There are two ways you can purchase and add this hardware to your vehicle: as part of an existing system or along with a new system. 
If you're looking to upgrade your existing remote start system, check out the wide array of RFX remote upgrade kits offered by Compustar, Arctic Start, and FTX! Not only will you have the chance to upgrade your remote, but you will also receive the X1. 
If you don't have an existing system, the X1 is now included in fully loaded remote start/security bundles offered by the Firstech brands mentioned above. This way, you can have smartphone vehicle control, GPS tracking, and vehicle health monitoring from the very start! Plus, if you purchase a security or a remote start + security bundle, you can also enable alarm alerts through the DroneMobile app. 
Why Vehicle Security is as Important as Home Security >
---
X1MAX: The Ultimate Upgrade (U.S. Only)
We always say the X1MAX is the Ultimate upgrade to any remote start and/or security system, and it's true, but did you know the X1MAX is also available as a standalone system? What makes this module so unique is that, even as a standalone, the X1MAX is a complete security system. 
This is made possible by its built-in back-up battery and shock sensors included in addition to the GPS tracking capabilities of other X1 series hardware. Because of the extra features, when you have the system installed, your DroneMobile app will look a bit different. The sensitivity of the included shock sensors can be adjusted to match your preference in the app. 
If you're looking for a way to upgrade your Firstech system as a U.S. user, there's no better option than the X1MAX. In addition to all of the wonderful security features mentioned earlier, you'll also have the smartphone vehicle control of the regular X1. Remotely start your vehicle from anywhere through the DroneMobile app or any of your paired smart devices.
DroneMobile and Smart Devices >
---
X1R: The Canadian Solution
We created the Drone X1R exclusively for our Canadian users. This module is powered by LTE but includes 3G fallback for when you don't have coverage. 
Just like the other X1 Modules, this solution adds GPS tracking, smartphone vehicle control, and vehicle health monitoring to over 90% of vehicles on the road. Unlike the X1, this module can be purchased as a single piece of hardware. This means you can add the X1R to your vehicle as a standalone system or as an upgrade to any Firstech remote start or security system. 
If you're looking for a great GPS tracking system and don't currently have remote start or security, then the standalone X1R is a great solution. Without the security or remote starter, the X1R provides you with in-depth GPS tracking tools such as Geofences, POIs, and Trip Reports so you'll feel confident in your vehicle's safety. You will also have access to vehicle health reminders to stay on top of your regular tune-ups. 
If you're already a proud owner of a Firstech system, or you're in the market for one, the X1R is a valuable upgrade. Along with GPS tracking and vehicle health monitoring, your X1R also adds those valuable smartphone vehicle controls to make your remote start/security system easier and more convenient to use. 
Find this module at any Authorized DroneMobile Retailer in Canada to purchase and have it professionally installed.
Have Fun with Siri Shortcuts & DroneMobile >
---
We created the X1 Series so you can find the perfect system to meet your needs and preferences. Whether you're looking to enhance your vehicle security or upgrade your remote starter, there will be a solution that fills your need. 
No matter which kit or bundle you go with, the 30-day trial of DroneMobile Premium is always included. This way, you can try out every great feature DroneMobile offers before choosing the subscription that's right for you. Now, all you have to do is talk with your local Authorized Dealer to get your system installed today!