DroneMobile Blog
How to Buy A DroneMobile Subscription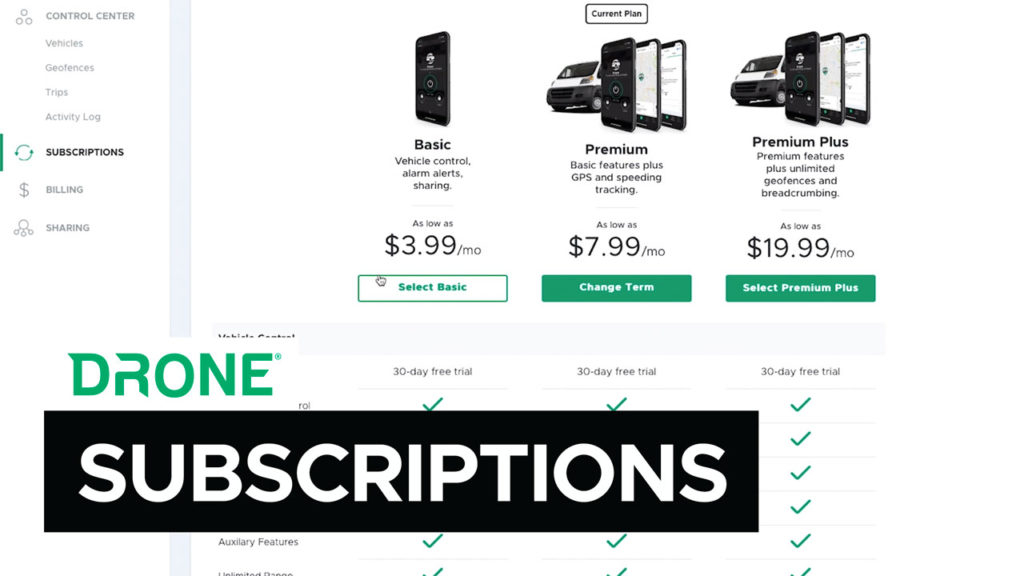 DroneMobile combines the power of your remote starter with your smartphone. 
However, none of the benefits of DroneMobile can be accessed if you don't have a subscription! Today, we will discuss the differences between each subscription, how to purchase a subscription, and why you need one at all. 
Types of DroneMobile Subscriptions
We proudly offer four different subscription types! This way, you can choose which plan works best for you and your needs. Check out the differences between each plan type below!
DroneMobile Basic: 
The Basic plan is best for those primarily looking to control their vehicle(s) from their smartphones. This plan grants you access to several alert types and Family Sharing, so everyone in the family can be given access to your vehicle(s). 
DroneMobile Premium: 
Take Family Sharing to another level with Premium's Curfew and Speed Monitoring. Premium is the most popular plan type because it enables the GPS Tracking capabilities of your Drone hardware. You'll also be upgraded to advanced security features.   
DroneMobile Premium Plus:
This plan is best for those with a small fleet of vehicles, or families looking for more advanced car GPS tracking. Premium Plus is the first tier, which provides users with trip reports that include breadcrumbing and turn-by-turn updates.
DroneMobile Ultimate:
Finally, there's our business-level plan. The Ultimate plan is best for those looking for fleet tracking features. Our client services team will be happy to assist you with purchasing and learning how to use this plan type!
How to Buy a Subscription 
Now for the fun stuff! Our newly redesigned DroneMobile Accounts website makes picking and purchasing a subscription easier than ever before. Begin by logging into your account and clicking into the subscription page to see the differences between each plan type. 
Please note you can now sign up for auto-renewal by adding payment info to your account. This step eliminates the need for you to input your payment info each month, year, or whenever it's time for your renewal.
For now, follow the instructions and the screenshots below to learn how to purchase your DroneMobile Subscription: 
Step 1. Choose Your Vehicle 
With DroneMobile you can add an unlimited number of vehicles to your account. An essential step in purchasing a subscription is to ensure you have selected the vehicle for which you'd like to buy a subscription. When you click into the subscriptions tab, you'll see all of your cars listed. From here, all you have to do is select "Edit" under the vehicle's name.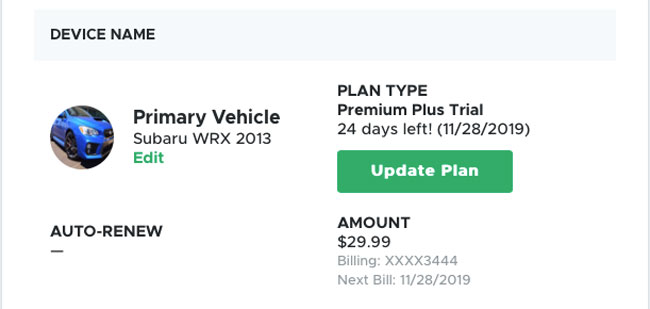 Step 2. Pick and Select Your Plan
Once you've selected the vehicle you'd like to edit, you will see each plan type. Right now, we offer "Basic," "Premium," and "Premium Plus" plan types through the website. You can purchase an Ultimate subscription by calling us at (888)-820-3690.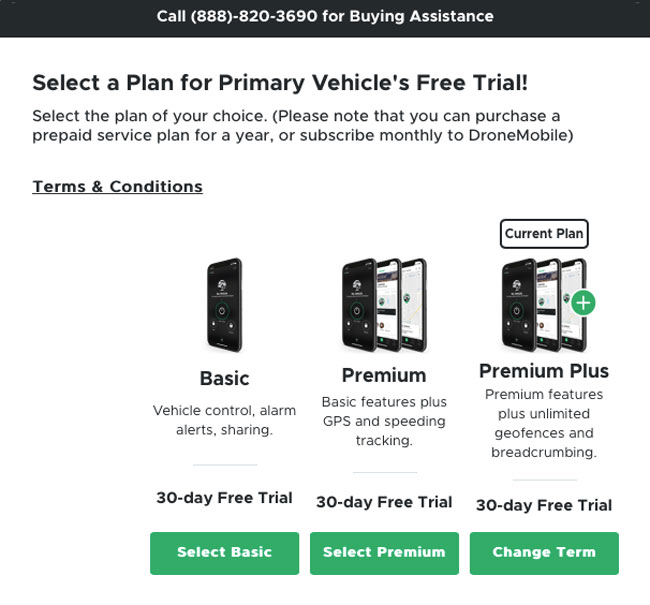 Step 3. Decide on a Term Length 
If you purchase a subscription while you're on a trial, you'll see four-term lengths are available: Monthly, 1-Year, 3-year, and 5-Year plans. If that 5-year plan jumps out at you, be sure to purchase before your 30-day trial ends. Once your trial ends, you will only have access to the Monthly, 1-Year, and 3-year plans.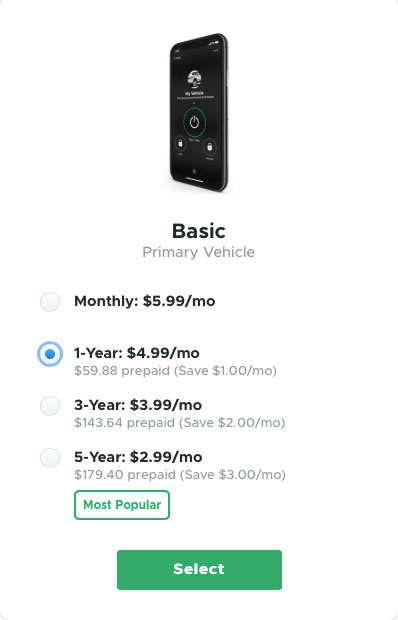 Step 4. Input & Submit Your Payment Info
Once you've decided which plan would be best for your needs, it's time to input your payment info. Take note, when you add a card to your account, no matter your term length, this card will be used to auto-renew your selected subscription at the end of your term.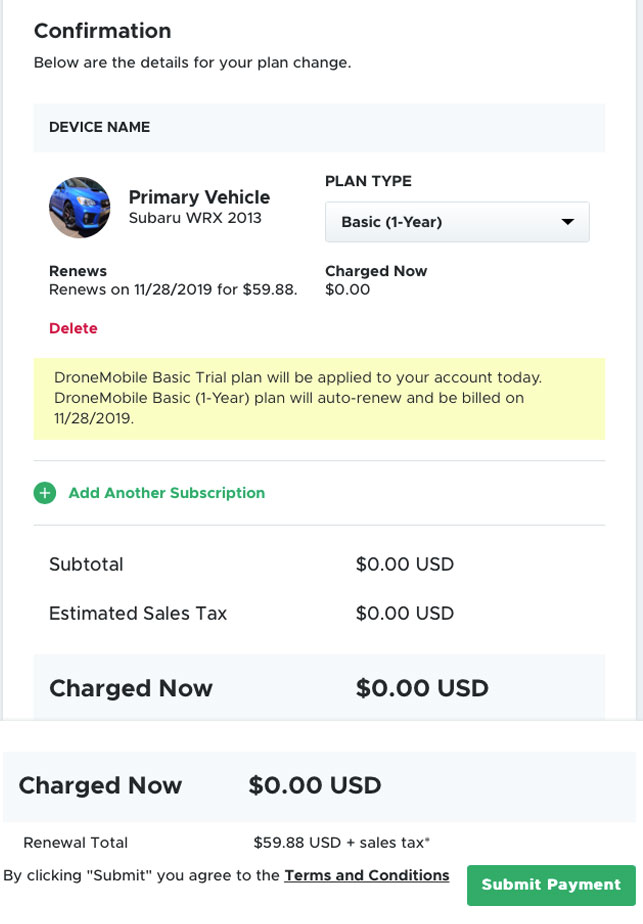 You can also check out our video!
Why Do I Need a Subscription?
We get this question a lot. Often, people assume there's no need for the subscription. The subscription, however, is the most crucial part of your DroneMobile system, because your Drone hardware relies on an LTE connection to send data to your cellular device. 
Just like your smartphone, your Drone device requires a data plan to maintain this LTE connection. Without it, you would be unable to receive alerts and updates about your vehicle from an unlimited range. The reason why you can use DroneMobile on any device (your desktop, tablet, smartwatches, etc.) is because of that unique LTE connection. 
In short, our subscriptions are the cheapest data plans in the game!