DroneMobile Blog
How to Use Your New DroneMobile Account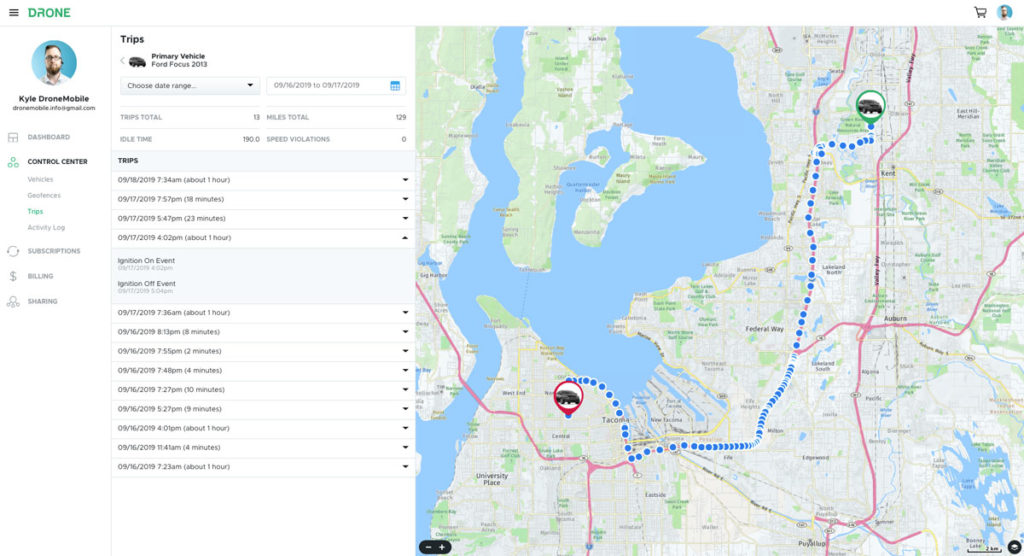 DroneMobile is an app, hardware, and that's it, right? Not anymore. In the past, our accounts.dronemobile.com website was mainly used to purchase subscriptions, but during our latest redesign, we did a complete overhaul of this website. So, today I'm going to give you a page by page guide to the accounts.dronemobile.com website.
When redesigning the accounts website, we had two goals: 1) To make the website more user-friendly, and 2) to make the site more valuable for our users. We accomplished these goals by redesigning the entire website interface, and by adding new sections to the website, like the Control Center.
You can also check out our video:
On the new site, you can now do everything you're able to do within the app: track your vehicle, use the vehicle controls, manage geofences… we'll be covering all of this today, so keep reading to learn more! 
The Dashboard 
Upon logging into your DroneMobile account, you will always wind up on the dashboard. This homepage gives you easy access to several things. 
First off, your account info is clearly outlined at the top of the page and is easily changed by clicking "Edit Profile." 
Second, several of the vehicles on your account are shown. These aren't just vehicles registered through your account, but ones which have been shared with you from other accounts as well. 
You can add a nearly unlimited number of vehicles to your account. The vehicle tab on the dashboard is a great way to scan and manage your entire list quickly.  
Finally, we've added a support center and news tab to keep you connected with our team. 
In summary, from the dashboard you can edit your account info, your vehicle list, stay up to date with the goings-on at DroneMobile, and ask for support from our team. 
Control Center 
The Control Center is the core of the new account's website. We've taken the power of the app and placed it onto these pages, making it possible for you to control your vehicle from the web. 
Within this section, there are four sub navigations we'll briefly go over below.
Vehicles 
When you hop into the vehicles tab, you'll see your list if cars. When you click the carrot to the right of each vehicle, the controls for that specific car will populate below. 
On this page, you have the option to either control your cars individually or perform bulk actions. Send bulk actions by selecting the vehicles you'd like to command and choosing your command from the drop-down menu. 
Geofences
Geofences have been around for a bit here at DroneMobile, but now they're better than ever. Instead of one type and shape of geofence, you now have access to three shapes and POIs. The three shapes are radius, similar to our older version, rectangles, and polygons. 
The polygonal geofences allow you to create complex shapes to suit your needs, as demonstrated in the gif below. 
You might be wondering, "How do POIs differ from geofences?" Well, let me explain:  
A geofence is an area, kind of like a boundary. When your vehicle enters and/or exits this area, you'll receive an alert. These are great if you'd like your vehicle (or vehicles) to stay within a particular neighborhood or town. 
On the other hand, a POI is a specific address or location. When your ignition turns off or on at this location, you'll receive an alert. Want to know when your kid is heading home from school? Set a POI at their schools' address.
Note: Rectangular and polygonal geofences are only available with X1 hardware and a Premium or higher subscription. 
Trips
This tab is brand new to accounts. We wanted to take the features of popular fleet tracking systems and apply them to the needs of your family or small business. 
On this page, you can view the trips your vehicles have taken within a specific timeframe. Our new Premium Plus and Ultimate subscriptions even allow for breadcrumbing. With breadcrumbing, you can see where your vehicle was located periodically along its route. 
You'll also receive the exact time and location of your vehicle when it was turned off and when it was turned on. 
Note: Breadcrumbing rate depends upon your subscription and hardware. 
Activity Log 
This page is similar to the trips page, but displays all of the alerts you've received instead of trips taken. This way, you have a history of everything your vehicle has done. 
Curfew alerts, device reports, location updates, and more are all found within the activity log. This is beneficial for anyone tracking the driving habits of their fleet or training young drivers.
Buy a Subscription
In the past, users mainly logged into their online DroneMobile account when they needed to purchase a new subscription. Now, upon visiting the subscriptions page, you might notice the plans look a bit different.
When we created our new products (the Drone X1 lineup) we added many new features for our LTE plans to support. So, we reworked our subscription tiers and changed up their names. 
When purchasing a plan, you have more options from which to choose. We now offer Basic, Premium, Premium Plus, and Ultimate plan types. Log into your DroneMobile account to see the differences between each tier. 
You can also purchase a plan at whatever term length is right for you. Take note, the longer you sign up for our service, the more money you'll save! 
Set Up Alerts
Yes, you can set up your alerts through your online DroneMobile account, just like you can through the app. Let me tell you how: 
First, from the dashboard, click "Manage" under the vehicles tab. 
Next, click edit beneath the vehicle for which you'd like to set alerts. 
Finally, set your alerts in the security alerts, vehicle health alerts, and advanced tracking boxes on the right-hand side of your screen. 
Simple, isn't it? And, if you find some alerts no longer suit your needs, you can switch them off or adjust them at any time! 
Family Sharing 
At DroneMobile, vehicle safety is family safety. We spend an average of 18 days per year in our vehicles, so why not make that time as safe as possible? This is especially important for families who are training young drivers.
We created all of our family sharing and driver monitoring features to automate your security preferences. Family sharing allows you to add multiple vehicles, drivers, and keep track of all your vehicle data in one place. 
Driver monitoring allows you to set alerts for things like curfews and speed violations. Whether it's your kid, your parent, or your employee, DroneMobile makes it easy to track your driver's bad habits. 
The features we discussed today allow you to create a DroneMobile system that adjusts to your needs. This is not a cookie-cutter, one-size-fits-all system. You're the one who knows your security standards best, so we leave the specifics up to you. Our update of accounts.dronemobile.com is just another way to help you create your perfect security network. 
We hope this brief overview helps you understand the newly redesigned DroneMobile accounts website. Be sure to stay up to date with our blog for more information on how to use accounts.dronemobile.com!